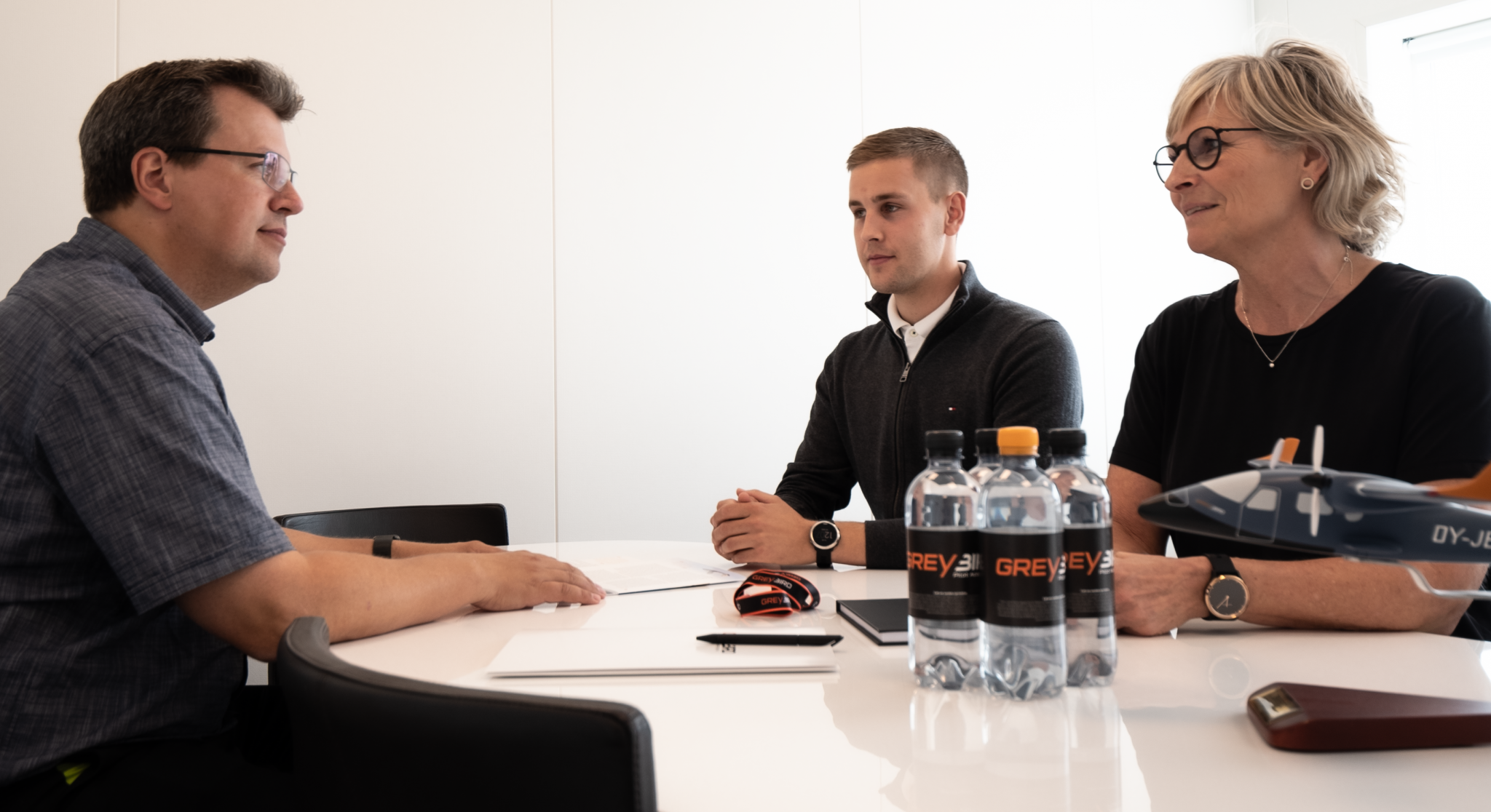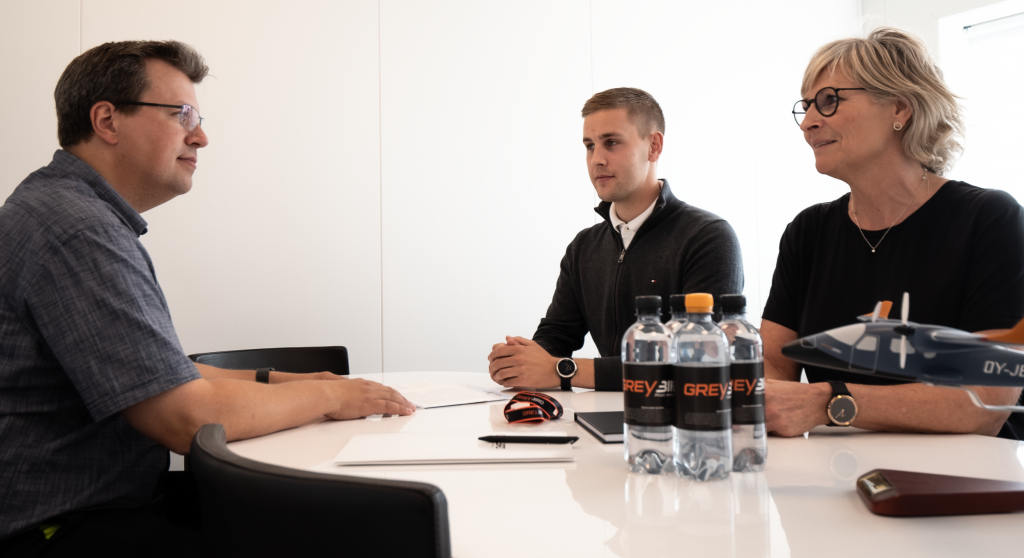 The
Information Meeting


– an Important Event
If you are reading this, you are probably considering becoming a pilot. Or you may already have decided that you want to become a pilot, but now you are considering where to study.
The info meeting at GreyBird Pilot Academy is designed to help you in this process – whether you are still considering becoming a pilot, or you are on the lookout for the pilot academy that you believe will bring out the best in you.
First of all, if you want to become a pilot, you have to set high standards for yourself – that is obvious. We are certain that you already consider yourself a responsible person and that you have been thinking carefully about your choice of education and flight academy.
If you want to be among the best commercial pilots, you should choose GreyBird Pilot Academy. In our opinion, being the best means being professional, precise, meticulous and skilled, but it also means working well in a team. We think that a team solves tasks better than a single person and that cooperation is the key to success.
In the meantime, if you have any questions, please do not hesitate to send us an e-mail at info@greybird.dk or give us a call at +45 70 770 110 – we are ready to help you, whenever you need us!
The Info Meeting
The info meeting is split up into two parts. The first part is about our company, history, and development since we were established; it is about international training as well as our fleet of aircraft and simulators and why we chose them. Furthermore, it is about our training philosophy and the mutual expectations we should have to each other as students and pilot academy. 
In the second part, our education is described in detail. We inform you about how we plan and execute the education, and how and why the design of our education is optimized to train you to become the best possible pilot, why our education consists of much more complex flying and why the choice of aircraft and simulators hugely affects how good a pilot you will become. You will learn about the requirements for your health, and you will get to understand in detail the subjects and the exams. You will, of course, also hear about the flight training and how it is planned, and why positive training makes a stark difference at GreyBird Pilot Academy.
Finally, we will talk about setting and reaching goals, and how and why our education not only covers flying and theory, but also includes leadership tools. As a pilot, you are likely to eventually become a captain and thus the leader of an operation of 8-20 people, depending on the size of the aircraft you command. Yet, even before that, leading yourself – understanding your own strong and weak spots – is a huge advantage. Therefore, we include leadership training in our education. 
The leadership tools we use are widely acknowledged and are used daily in the largest and most successful companies in the world. Studies as well as practice have shown that our leadership tools are extremely effective and have been for decades. In the same way as sufficient knowledge and a good skill set will affect your ability to function effectively in the cockpit, mastering these leadership tools will make a significant difference and improve your qualifications as a pilot. This is just one of the many areas in which GreyBird's education programme really stands out and outperforms most – if not all – traditional pilot training programmes.
The agenda for the info meeting
GreyBird as a company

Life as a student

Life as a commercial pilot

GreyBird values

Expectations
Break
The education in details

Financing your education

Next step

How to overcome obstacles
When you have attended this event, you will be well prepared for deciding whether becoming a pilot is the right choice for you. Likewise, you will be left with a lot of knowledge about GreyBird, our international training programme and our philosophy, and you will be able to decide whether GreyBird is the right pilot academy for you.
We are certain that you have already done your own research on what becoming a pilot means and what it takes. However, we still believe that by attending this event, you will learn more; and if not, you will be able to verify that your knowledge is sufficient. 
We want nothing more than to make sure that you have a complete understanding of what becoming a pilot is all about, and what studying at GreyBird means. It is no secret that educating pilots is our bread and butter, but that is exactly why it is so important to us that we are right for you, and you for us. Our overall goal is to successfully train each and every student pilot who attends our academy. And by "successfully train" we do not mean passing exams. Our goal is to train our students so that they reach the skills and knowledge levels that will place them among the best in the world. Furthermore, we also strive to prepare you for acting professionally – to carry the responsibility you take upon yourself when piloting aircraft, which is why we spend a lot of time talking about training philosophy and leadership tools. 
Being a pilot means that you are capable of commanding aircraft, but more importantly it means that you are the person who other people want in the cockpit. You should be the person who makes passengers comfortably chat away in row 16, who enables other passengers to be sound asleep in row 21, and who makes sure that parents can confidently send their kids to their grandparents on your watch, knowing that you will make all the right decisions to bring their loved ones safely to their destination. Being that person takes more than a pilot certificate alone, and if you agree, then GreyBird may just be the right pilot academy for you.
Take this chance to check us out; participate in the information meeting. We look forward to seeing you and to answering all the questions you may have. You can sign up for the event in the box below